I took part in the
Bay to the Breakers
, an annual marathon-walkathon-halloween race. The race results had these stats on me:
Bib #
: 34055
Place
: 29507
Time
: 4:15:20
Length
: 12 km or 7.46 miles
Although the results show that I was placed 29507 amongst almost 65000 runners. It doesnt tell you that I had to reckon with almost 100,000 unregistered participants who had packed the course- many of whom were quite a distraction with their fancy attire (and some without any attire at all).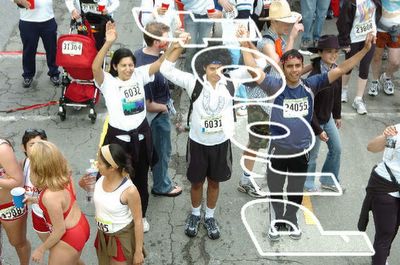 At the finish line
The incentive to finish was a free photo at the finish-line, and entry into the golden gate park to watch Gavin DeGraw perform live at the event cleverly called 'Footstock'. The boy's performance was impressive and even after the gruelling run we found ourself shaking a foot.
So engrossed were we in the music that we disregarded the last call to the MUNI buses from the park. So after the concert, we had to retrace our steps to almost the middle of the course, making it a total of 16 kms we covered on foot in the day.